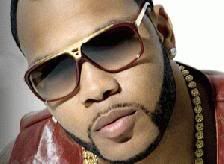 09/03/2009
"BLUE" PART OF THE NEW FLO RIDA SINGLE
NEWS BULLETIN
"BLUE" PART OF THE NEW FLO RIDA SINGLE":
Straight from the Billboard front page (the most important american musical magazine) comes the news that the new single of the famous american rapper Flo Rida will be "Sugar". You can hear the exclusive preview here: http://www.billboard.com/bbcom....2.story
You're probably asking yourself why your reading this news here...
Well you can read the answer to this question on the song credits where, besides the american authors, you can read "Lobina, Randone and Gabutti".
That's right, our artists have been contacted by the management of the famous hip hop artist, due to the presence of the Blue chorus in this new song, and they have accepted there publishing collaboration offer.
At the moment the rapper is top ten in many charts with his single "Right Round" which chorus is clearly an edit of the mega 80's hit by Dead or Alive.
"R.O.O.T.S" is the name of the new album that includes all these singles (with smashing download records) and that will be released March 31 2009.
MAURY AND JEFFREY:
"It's been a while now that hip hop is obviously being influenced by European dance music. Songs like "Stronger" by Kanye West with the Daft Punk sample, or T.I. and Rihanna with "live your life" and the Dragostea dintei sample are only some of the most popular among many of the tracks that blend European dance sounds to the hip hop moods and vibes.
If European dance is what's making it's way in the hip hop productions then it was inevitable that "Blue" would have come to mind sooner or later considering it's popularity in the US. We are extremely proud to be among the few Italian artists that could receive a request of this kind considering the fact that Blue has earned it's place in the Hall of Fame of the evergreen.
It's amazing to understand how great the power of a song is!
The surprises never end...or maybe...simply...a great song just never dies"
BLOOM LIVE AT MOJITO:
New Bloom 06 concert the 20th of March at the Mojito dico club in Mellaredo di Pianiga - Venice. Here's the link to know more about it. http://www.mojitonline.it
NEXT INTERNATIONAL RELEASE:
A licensing contract is almost signed with a famous British label for the Bloom 06 release in the UK and Eire. More on this when it's official.