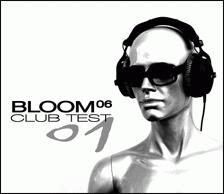 07/10/2008
THE "CLUB TEST 01" TRACK LIST
ALL SET UP FOR THE FIRST BLOOM 06 "CLUB-ORIENTED" EPISODE
"CLUB TEST 01" News:
Here's the cd cover and the official track list:
01 Between the lines - (Album mix) 6.01
02 Blue (Da ba dee) – Bloom 06 2008 Extended Concept 7.44
03 Being not like you – Elektro Pop Remix 4.88
04 Welcome to the zoo – D-Deck RMX 5.54 (
D-Deck from BlissCo. I presume, but still
for chosing it)
On Thursday the 9th of October we will upload the first preview on our MySpace and the second one is scheduled one week later. So stop by and tell us what you think of it.
UPCOMING SHOWS:
As mentioned in our last newsletter on the 20th of October there will be another show-interview with Franco Nisi in the Varese "Piazza della Repubblica" square. They say that we will play 4/5 songs and chat a bit of about this new adventure. As usual we'll be happy to meet the fans after the show.
We'd enjoy to see you all there!
NEW BLOG:
Finally a new Blog post! Same place new stuff…on our official site and MySpace…we want your comments!!
WHERE IS MYB 2008 ??????????????