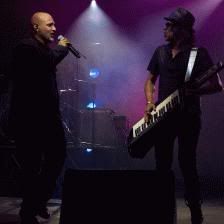 LIVE TOUR UPDATE 2009
NEW PHOTOS AND REMIX PREVIEW
TOUR UPDATE:
We would like to thank all the fans that came to our shows .. going through endless trips and terrible weather.
We thank you for all the support and are fully charged by the great enthusiasm of the crowd.
As we normally say in these cases…things are starting to happen
There are a few updates to the tour schedule.
Here are the confirmed gigs:
FESTIVAL SHOW:
Sunday 12 July - Piazza Giorgione - opening 9pm – Free Entrance
"Radio Birikina 10-11-12 July 20th birthday"
More gigs to come…online as soon as they are confirmed.
LIVE SHOW PHOTOS:
We've uploaded some pictures of the last shows on our official MySpace
REMIX PREVIEW:
As many of you probably know "Blue" has recently turned 10 years old: we have released the version that we play live in "Club Test 01" and Flo Rida is hitting the top chart positions with "Sugar" that includes the Blue Chorus. All of this has digged out the hype of different labels and distributions to release song again in new versions…so here we go with new remixes.
Among these versions it was a must to have one come from a DJ that, besides being a long time great friend, has many times worked on our productions:
On our MySpace you can here the previews of the "Concept of Blue 2009" remix by Roberto Molinaro produced in the "Famiglia Losca" studios.
Pride is often like a dress, worn to hide an imperfection or some kind of mess...